Electro-harmonix Big Muff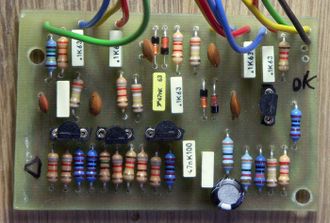 Aprés la Fuzz Face arrive la star incontestée de la distorsion: La Big Muff d'Electro Harmonix souvent citée  comme "LA" pédale de disto des 70s. Plébiscitée par les guitaristes à cause de sa sonorité grasse et chaude et son sustain fabuleux, elle est également redoutable pour les leads de synthé...
Dans une interview de janvier 1982, Chris Franke disait ceci: 
- What about effects devices and signal processors?
On side two of Tangram I put my OB-1 synthesrzer through a very old fuzzbox. That made it sound like a saxophone in the lower registers and a guitar in the upper registers. Many people mistake that sound for Edgar's guitar.
- What type of fuzzbox did you use?
It is only the Electro-Harmonix Big Muff fuzz which is usable for this effect. I even play my Prophet through five Big Muffs.
- Five!
Five of them, one for each voice. This is because if you play a chord on the Prophet and run it through a fuzzbox, you get white noise. So I run each voice out to its own fuzzbox. This gives me an almost digital sound quality.
En réalité, il n'y a pas eu "une" mais d'innombrables versions de la Big Muff et bien sûr toutes sonnent différemment. J'ai retenu 4 versions qui me paraissent être les plus marquantes:
- V1: The Triangle Big Muff (1969-1973):
La première et l'une des plus réputées; utilisée par Santana en 1971 (Santana III) et par Gilmour en 2006 sur "On the island" et sa tournée.
- V2: The Ram's head Big Muff (1973 - 1977):
C'est LA disto principale de Gilmour depuis "Animals" (l'intro de Sorrow, le solo de confortably numb...). La classe.... Extrait:
" David mainly uses his Big Muff in combination with boosters or overdrives such as the Colorsound Power Boost in the 70's and a Tube Driver in the 90's and present. Réglages: Sustain 70%, tone 20-50% and volume 50-60%."
- V3: The Red and Black (late's 70s) Big Muff (1977-1979):
plus sauvage et violente que les autres, mais difficile à contrôler.  
- V7: The Russian "civil war" Big Muff
Gilmour l'a utilisée sur l'album studio "Division Bell" et dans la tournée "Pulse". 
Astuces:
- Si l'on remplace les 2N5088 par des 2N5089, on améliore sensiblement le bruit de fonds (sans le supprimer cependant). A souder rapidement et proprement (le mieux reste d'utiliser des supports de transistors).
- L'utilisation de résistances métal 1% n'est pas critique, par contre utilisez si possible des condos LCC (plus précis que les céramiques).
Exemplaires fabriqués: 7, c'est le top pour utiliser des chutes de plaque de cuivre! Personnellement je trouve la Ram's Head fabuleuse...
Conclusion: Foncez! Facile à construire, peu coûteuse, c'est le projet idéal pour débuter.